Keeper of the Blinking Lights T-Shirt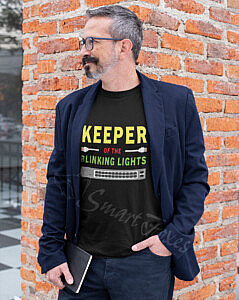 If you are in IT, you know that for the rest of the office folks our job titles sound like Greek – people just have no idea what all those fancy tech words mean. So, we came up with a funny and self explanatory job title which will work for Network Engineers and Sysadmins (that's geek for System Administrators).
*** Keeper of the Blinking Lights ***
This T-Shirt will make a funny gift for a colleague from IT department, friend or husband/wife.
Available styles: Standard Unisex, Womens and Premium Unisex T-Shirt
Designed for system administrators, IT tech people and network engineers
Also available as a hoodie, coffee mug and sweatshirt
Tear away label
Runs true to size
Shipped from US, Canada, EU, UK